Why Buy Investment Properties Interstate?
Many property investors disregard the idea of buying an investment property interstate. This can be for a number of different reasons, often personal. However, investing in property interstate could be one of the best decisions you'll make.
Why Do Some People Prefer Local Properties?
There's a number of reasons why some people seem to prefer to invest close by. Some people have sentimental attachment to the city they grew up in and may let these emotions sway their thinking. Others prefer to be able to check up on their investment properties with a drive by. Still others may feel the need to see the property they are buying before committing.
While all these reasons are valid, they do not represent the actions or thinking of a smart property investor. Investing interstate has a number of benefits that logically outweigh any of the previously listed reasons.
Advantages of Investing in Property Interstate
Different Property Markets
Any property professional will remind you that the singular "Australian Property Market" doesn't exist. Different cities, towns and suburbs around Australia are in different stages of the property clock at any given moment. Property type can also influence a property's performance. Thus, it is naïve to assume that the property market that you live in will create the greatest returns for you as an investor.
For example, if you lived in Sydney, you could buy a standard 3-bedroom home near your home for approximately $1-1.5m, depending on area. In a state such as Queensland, you could get a similarly sized home with proximity to the CBD for potentially half the cost. This would then allow you to buy a second investment property, creating two rental yields, and increasing the opportunity for capital gain.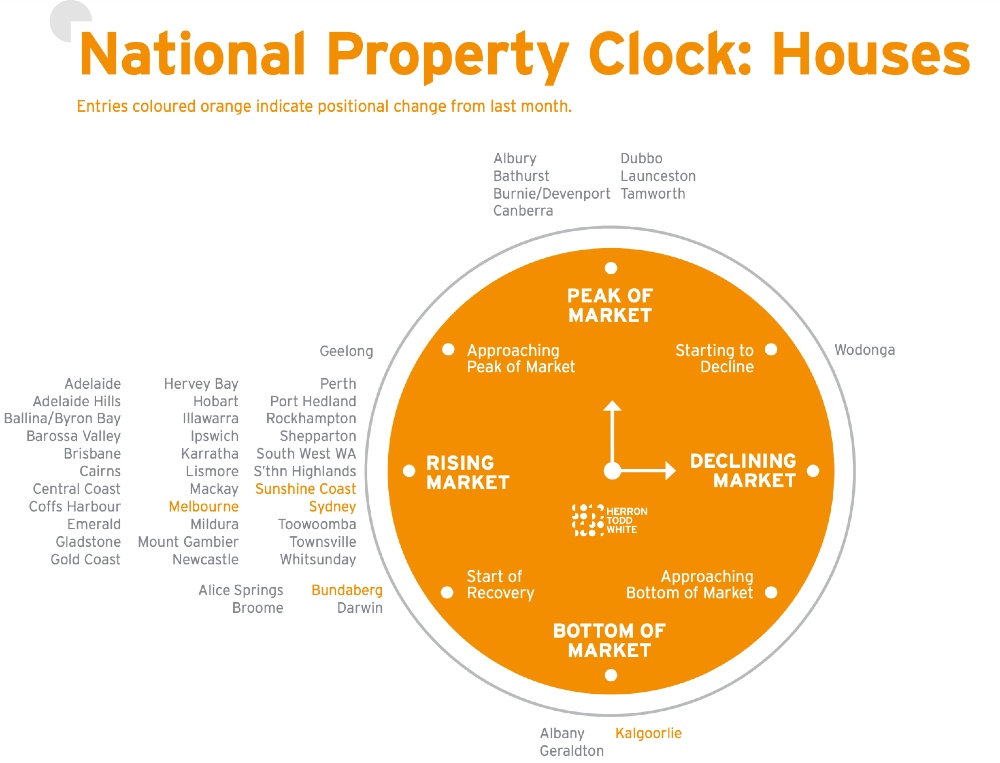 For example, this Property Clock from the March 2021 HTW report shows that there are a number of markets on the rise.  However, several areas are not currently at the prime time to invest, so it is best to avoid those.
Safety in Diversification
"Don't put all your eggs in one basket." Investments are never completely safe. While the property market is not known for its volatility, it can still take hits in different areas from time to time. It is strongly recommended to diversify your investments across a number of property markets. That way, even if something happened in one market, your other investments are more likely to be safe.
Land Tax Threshold
Each state and territory has it own cap of what the cumulative value of the land you own can be before you start paying land tax. If you own your home, buying an investment property in your area may help to push you over the line. By spreading your portfolio across 2+ states or territories, you are able to remain under this threshold individually, while ending up with a very high total value altogether.
Don't Micromanage Your Property
If given the opportunity, some investors will be nosy landlords, always checking up on their property and tenants. As an investor, there is no need for you to do this. That's what your property manager is for.
If you have the tendency to micromanage or take the opportunity to just "pop by", buying interstate will help you to leave the managing up to the professionals.
Things to Remember When Investing in Property Interstate
Local Knowledge
You may not know the transport options, infrastructure or demographics of another state as well as your own. Thus, it is extremely important to complete the right research to ensure the property you buy is in a favourable location and suits the needs of the rental demographic. You can complete your own research or have a professional Qualified Property Investment Advisor assist you.
Tenancy Laws
This point is one of the reasons why we recommend to never self-manage your rental property – particularly interstate. The laws for rental agreements, and landlord requirements differ across each state and territory. We recommend having a specialised property manager in each state you own property, to ensure everything is up to code according to local legislation.
Insurance
Let's say you buy an interstate property and want to insure it. There's a chance that when do, you'll get some nasty surprises. If it's in a location prone to natural disaster, theft, crime or other risks, your insurance premiums may be extremely high. This is another reason to ensure you do the right research. We recommend calling your insurer before finalising the purchase to ensure you won't run into any insurance problems.
Should I Invest in Property Interstate?
In short, YES.
In long, as always, it depends on the property, the exact location, and the research you've done. But ultimately, you should at the very least be open to interstate opportunities. They may provide some of the best rental yield and capital growth you'll find.
Start Today!
If you'd like to start planning your future in property investment, don't hesitate to contact Prospa Property Advisory on 1300 660 335 or email hello@prospaproperty.com.au. We're a group of Qualified Property Investment Advisors, and are always ready to help you start reaching your goals through property investment.